Key Events across the Region
The Macedon Ranges Vignerons Association (MRVA) and individual wineries across the Region hold numerous events throughout the year to promote the region and provide opportunities for all to visit and experience our wineries and taste our quality wines.
Scroll down for information on the following events:
Gisborne Peak Winery - Long Table at Dusk - 23 February 2019
Cleveland Winery - Pinot & Petanque - 19 January 2019
A Classical Afternoon at Guildford Vineyard - 2 December 2018
Wine and Food Festival Budburst - 17 & 18 November 2018
Macedon Ranges Wine Exhibition and Gala Dinner - 5 October 2018
---
long table at dusk, gisborne peak winery, 23 february 2019
---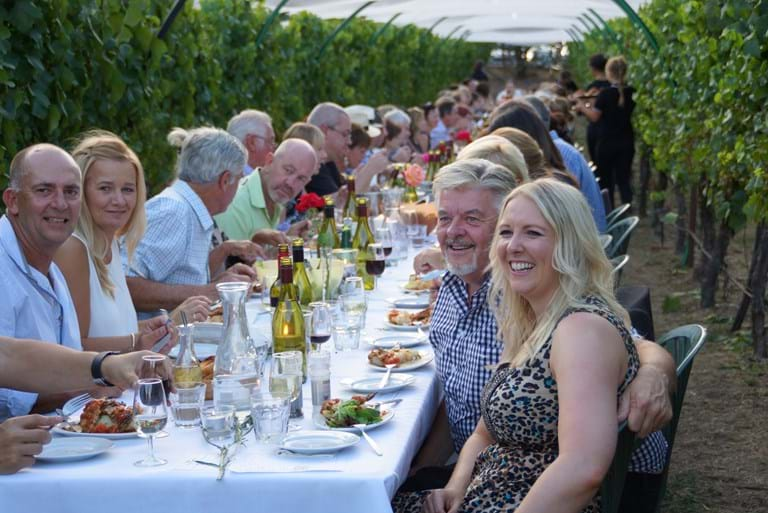 The Long Table at Dusk is the one time during the year that Gisborne Peak Winery opens its doors in the evening and invites their guests to join them for a magical dinner amongst the vines. It is an opportunity to immerse yourself in their beautiful vineyard atmosphere whilst enjoying a spectacular five course menu. Enjoy delicious wines and food to match while you watch the sun set over Mt Gisborne. The lighting is golden, the air is soft and the smells are sweet at this time of day.
Frank Gorlitz of Schatzi's Woodend is doing the catering this year, so you can be assured that the food will be fantastic.
The evening starts at 6.00pm with a complimentary glass of Sparkling and appetizers on the deck. It's important to be on time, because at 6.30pm guests will move out into the vines. Seated at one long, communal table, guests enjoy three delicious courses; wine will be sold by the glass and by the bottle, with pairing suggestions listed on menus. At about 9:00 pm, guests will move back into the Cellar Door area and enjoy dessert (with Muscat and Espresso coffee also available as an optional extra).
Note: Bookings are absolutely essential as numbers are limited, so please click on the button below for more details and how to book.
---
Cleveland winery - pinot & petanque - 19 January 2019
---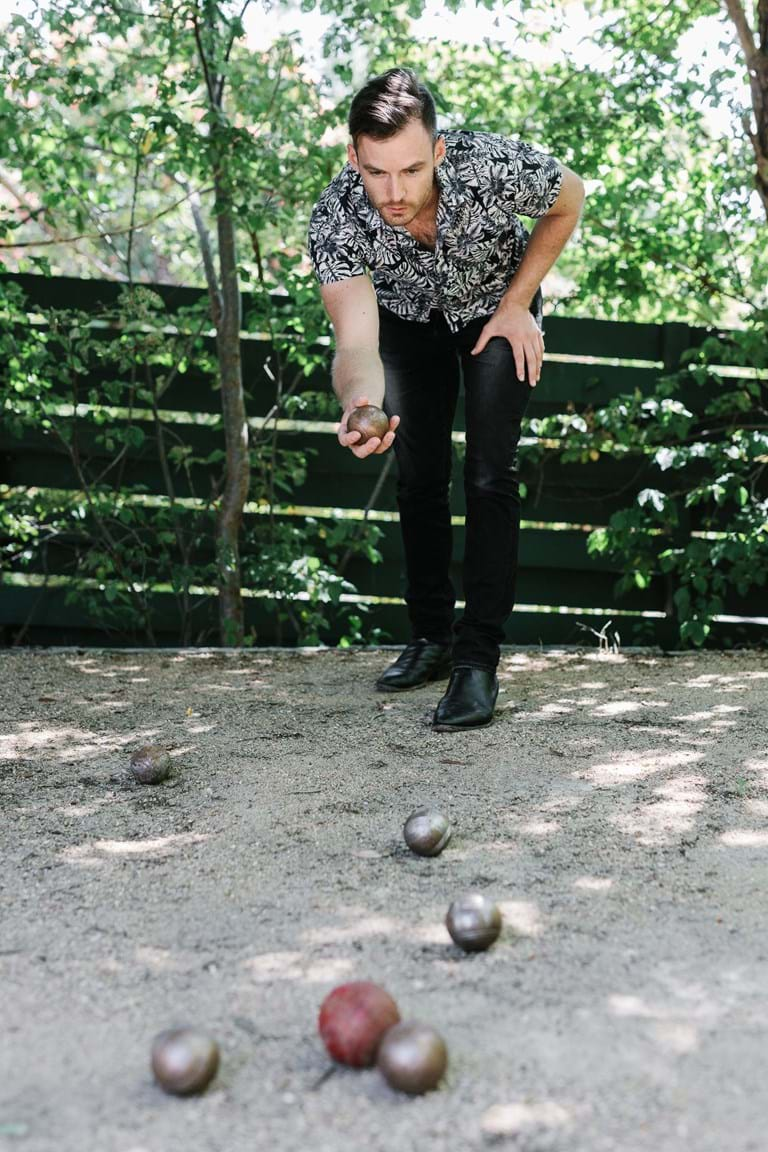 Join Cleveland Winery for their Sparkling Pinot and Petanque event. Bring your friends and family and enjoy a fun day out in the Macedon Ranges. Grab a glass of sparkling wine and enjoy a leisurely game of Petanque or sit back on the lawn and enjoy the live music. Head to their famous Underground Cellar for a Blind Tasting session or sample locally made liqueurs from Herbal Lore or boutique beers from Tooborac Brewery. Plus lots more.
Saturday, 19th January 2019 – 12-5 pm.
Early Bird Offer!
All tickets booked before 25 November 2018 get a 20% discount on accommodation until February 2019.
Couples and groups packages are available.
---
A Classical Afternoon at Guildford Vineyard
2 December 2018
---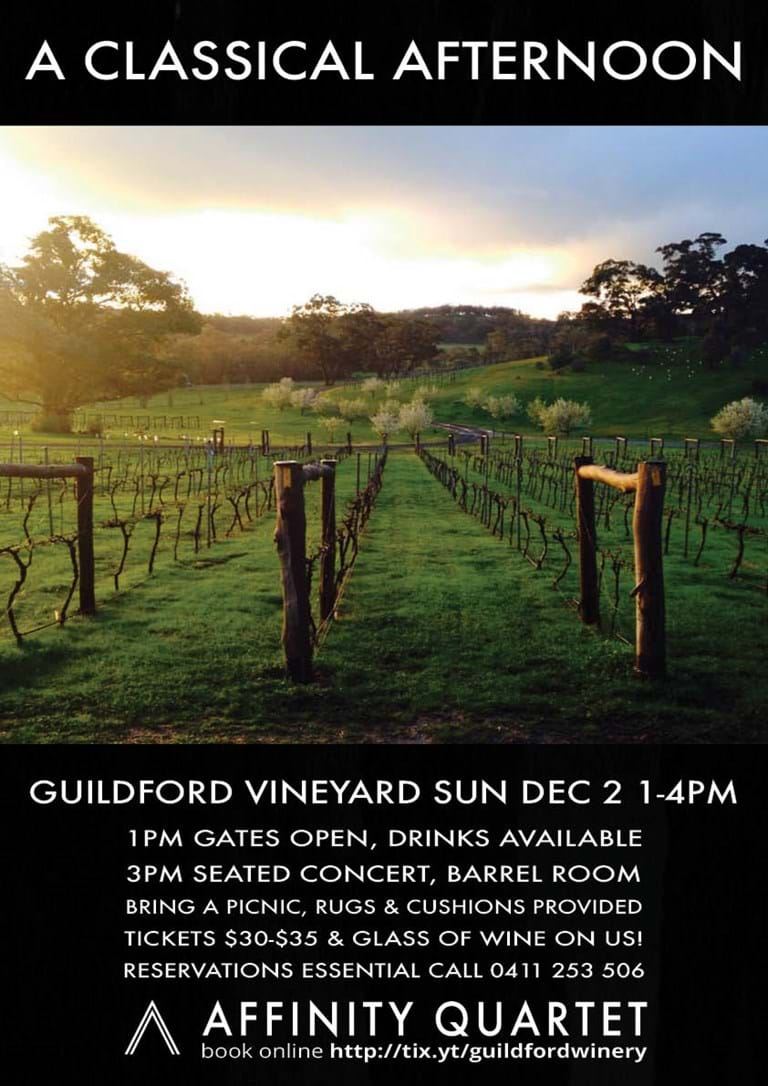 Spend the afternoon in the stunning grounds of Guildford Vineyard on Sunday 2 December from 1pm! Bring your own picnic lunch, collect a blanket and pillows from Cellar Door, and find a spot in the grounds. Enjoy a wonderful recital program by Affinity Quartet in the Barrel Room at 3pm. Tickets are $30-$35 and include a complimentary glass of wine. Picnic spots can be reserved online at http://tix.yt/guildfordwinery, or by calling 0411 253 506.
Affinity Quartet is celebrated for taking listeners deep into the classical chamber music experience through their absorbing musical interpretations.' (Play On Music) For this performance, the Quartet presents a beguiling program of music from the nineteenth century to the present. Beginning with Argentinian composer Osvaldo Golijov's haunting and beautiful Tenebrae ('Darkness'), the program also includes Australian composer Matthew Hindson's pulsating TechnoLogic for string quartet, and finally, Felix Mendelssohn's shimmering String Quartet No. 2, completed in 1827 when the composer was just 18 years old.
Click here to view a short video of Affinity Quartet.
---
Wine and Food Festival - 17 & 18 November 2018
---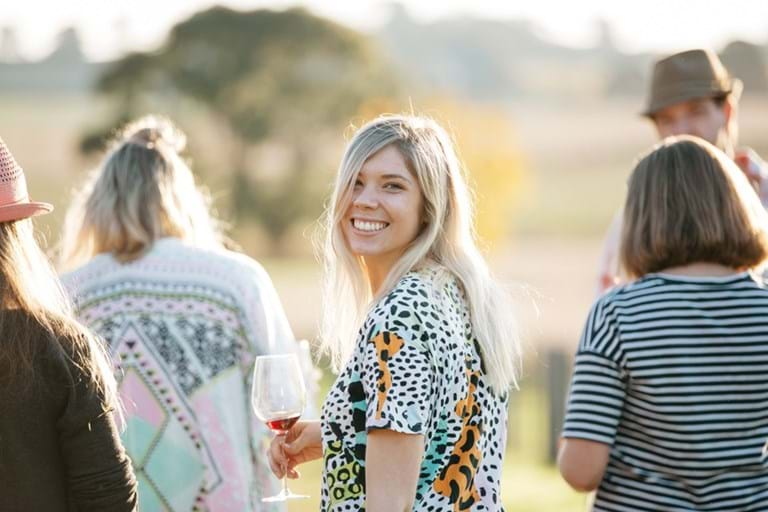 The Macedon Wine and Food Budburst Festival showcases the diversity and quality of wine and food being produced in our region and is a key annual event that promotes the brand image of the Macedon Ranges as a leading grape growing and wine making region.
Over 30 participating wineries across the Macedon Ranges open their cellar doors and vineyards enabling visitors to explore the diversity of our wineries and taste wine that can often only be sourced at the Cellar Door.
The Festival will be on 17 and 18 November 2018.
---
wine Exhibition gala dinner - 5 October 2018
---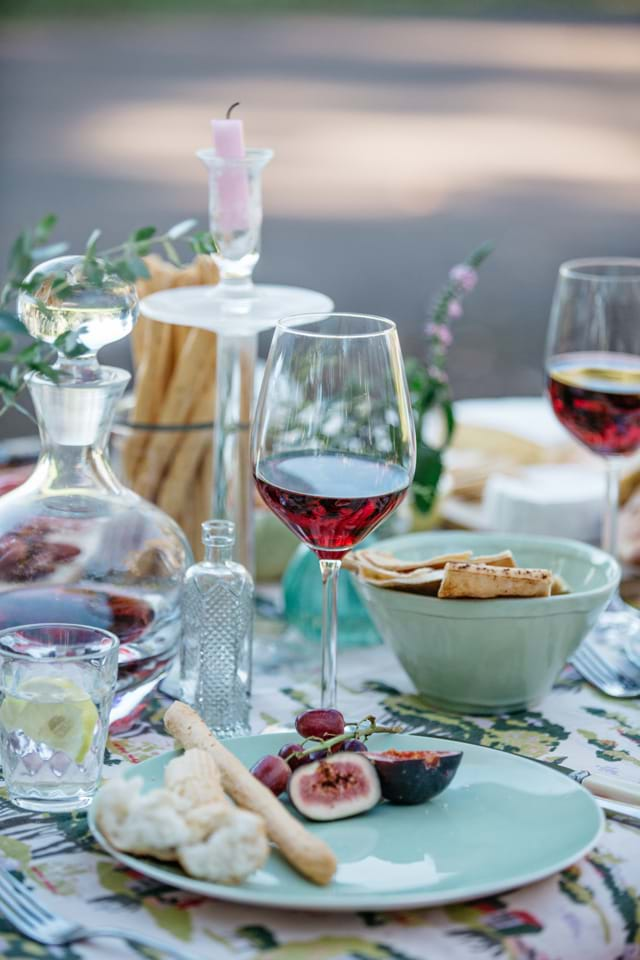 The 2018 Macedon Ranges Exhibition Wine Show and Gala Dinner were held in the week beginning 1 October 2018. These two events are highlights for the region as we recognise outstanding wines and celebrate excellence in regional winemaking.
The Wine Exhibition judging took place on Monday 1 October and culminated in the celebratory Gala Dinner on Friday 5 October, where the best wines of the Wine Exhibition were showcased and the awards and trophies were announced.